Matthews / Conner / Covey / Salts [Solt] Family History
Pictured Below: Charles Lee Saults and Charles F. Covey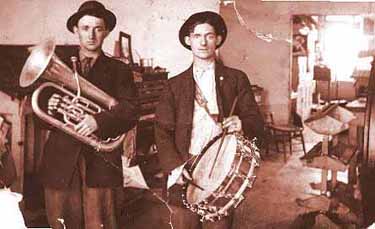 Contents
Introduction
Welcome to the site for the family names of Matthews, Covey, Salts [Solt] and Conner. If you find a connection to any of the family lines represented at this site please get in touch. It would be great to hear from you.

WE HAVE A SALTS/SOLTS DNA MATCH
I am very proud to say that we have finally had a dna match between our known Salts line of Washington County, Tennessee with a Solt descendant from Pennsylvania. So through science, we have now confirmed that the Salts of Washington County, Tennessee are connected to the early German Pennsylvania Solt lines. And with this knowledge, we would like to ask for Salts and Solt volunteers for our research project.

Salts Documents..
http://www.saltsfamilyhistory.com/documents.html
Use the link above to go "off site" to view Salts Family Documents

Salts / Solts DNA project....
The following information gives the website and information for the Salts / Solt DNA Project that is constantly being updated with new finds.

http://www.familytreedna.com/surname-search-result...mp;Searchname2=Salts

When you visit the site above, the following blurb will be found with other information on how to take part. You can also contact the SALTS DNA project leader from there as well.

DNA Project Blurb..."Are you a Salts male? We need your help! Help determine if the various Salts family lines in the USA are related. Funding is available to help with the test costs for the first three participants. Contact the group administrator for more information. Your participation will help determine: 1. Do other Salts lines in the United States have a common ancestor with the Washington County, TN, Salts line? 2. Do the various descendants of the Washington County, TN, Salts families have a common ancestor?

Variations of the Salts name...
The following variations of the Salts family name have been found and are currently held in this data base - Salt, Salts, Saltz, Saltsz, Saulls, Sault, Saults, Saultz and Sults - and now, Solt, Solts, etc. We've only just begun.

Solt connections...
Over the last few years, focus have been placed on the Solt family name and th(first found in Lehigh Co., PA and later in Rowan Co., NC) and Henry Salts (first found in Rowan Co., NC and later in Washington County, Tennessee). Even though both men are shown in this database, no connection has been found that links them together in any possible way. The information found in their biographical sketches in this site has been posted for others to view. To date, there have been no documents found that identify lineage past Henry Salts of Washington County, Tennessee. All other suggestions are only speculation.

To those who have been here before, please note...
I work with four other people researching the Salts family name. Together, we have been working on the early Salts / Solt people of Washington County, Tennessee. From our findings -or lack of findings- we decided to remove links from some of the Salts people of the WACO area. We felt it would be better to show no links, rather than, undocumented and incorrect links.
I collect any, and all, information on the families of Eastern Tennessee and from the Rowan county areas of North Carolina; so please don't hesitate to write in and share documents or knowledge you may have regarding our family line. We can also work together to link your tree and add your Salts family data to this site. I'm always willing to help.
Contact